---
Codex Bezae Cantabrigiensis
(D - Gospels and Acts)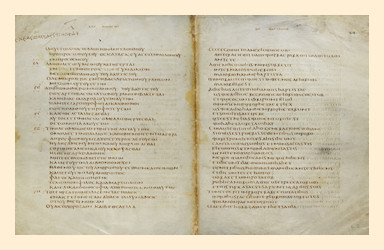 Codex Bezae Cantabrigiensis, Matthew 11:10-21
The Codex Bezae Cantabrigiensis is so called because at one time it belonged to Theodore Beza, who in 1581 gave it to the University of Cambridge (Latin Cantabrigia), where it is now kept.
The codex is a Greek and Latin diglot, the Greek text being on the left hand page and the Latin on the right. It contains only the four Gospels and the Acts, with some gaps from loss and mutilation of its pages. It is a thought to be from the fifth or sixth century. The Greek text is quite peculiar, with many interpolations found nowhere else, a few remarkable omissions, and a capricious tendency to rephrase sentences. (For a list of the more interesting readings in English, see Cunnington 1926). The Latin text is also peculiar. There is much disagreement among critics as to the relationship of the Greek to the Latin text, but most consider the Greek text to have developed independently and prior to the Latin, although sometimes later conformed to the Latin, while the Latin text is seen as originating in a poor attempt to translate the Greek. In general the Greek text is treated as an unreliable witness, and rightly so; but its very peculiarity, which suggests that it descended from an early offshoot of the manuscript tradition, makes it an important corroborating witness wherever it agrees with other early manuscripts.
Readings of the manuscript first appeared in the margin of Estienne 1550 and then in Beza's notes (see Beza 1565). It was collated for Walton's Polyglot by Archbishop Ussher (see Walton 1657) and fully translated into English by Whiston (see Whiston 1745). Kipling 1793 was the first to present the text in full. For later editions see Hansell 1864, Scrivener 1864, and Cambridge 1899. Full collations are in the apparatus of Tischendorf 1869 and Tregelles 1857.
---