---
Making Merchandise of the Word of God
For we are not as many, which make merchandise of the word of God: but as of sincerity, but as of God, in the sight of God, speak we in Christ.

— 2 Corinthians 2:17, Geneva Bible

And when he had made a scourge of small cords, he drove them all out of the temple ... and said unto them ... "Take these things hence; make not my Father's house an house of merchandise."

—John 2:15-16, KJV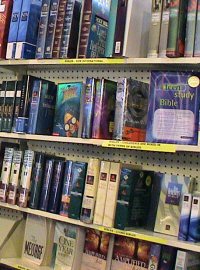 From time to time I am asked to comment on some new 'study' or 'devotional' edition of the Bible. I am talking about editions now, not versions, because a version may appear in several different editions. But as hard as it is to stay current with all the new versions, it is much harder for me to keep up with the recent flood of editions, most of which are gimmicky 'niche market' Bibles that the publishers have aimed at different groups of people in the churches. When I go to the Christian bookstore I see more of these all the time. There are Bibles for women, children, teenagers, 'tweenagers,' blacks, charismatics, 'Prayer of Jabez' devotees, and so on. When I am there in the store I feel as if I should have a look at them, because it may be that someone will ask my opinion about one of these. But frankly I must say that I am embarrassed (disgusted sometimes) even to look at their gaudy covers.
I think it is not an overstatement to say that the publishers of these editions have been making merchandise of the word of God in ways that have become utterly shameless. And I wonder what it says about the majority of Christians when booksellers have found that there is a demand for Bible editions like this. The three examples described below are especially bad examples of this trend, but my intention here is not merely to warn against these three — they represent the whole recent crop of 'study' and 'devotional' editions which I believe do more harm than good. These editions overlay the word of God with all sorts of distracting material which can only be described as cheap and vulgar. They are designed to pander to the debased taste and interests of those who are so addicted to the shallow things of modern popular culture that they will run away from anything which appears to be dignified or noble.
If I might detain the reader for a moment with a little Bible lesson on this subject, I think it may do some good. The text quoted above from the Geneva Bible's translation of 2 Corinthians 2:17 has supplied me with my theme: making merchandise of the word of God. This rendering of the Greek καπηλεύοντες τὸν λόγον τοῦ θεοῦ is based upon the fact that the word καπηλεύοντες — which in most versions is translated "corrupting," in consideration of the context — has actually the primary meaning of "peddling." The sense "corrupting" or "adulterating" developed secondarily because merchants in ancient times very often adulterated their commodities for sale, as when they added water to wine, or did any other thing to increase the apparent volume or attractiveness of a commodity. The commodity itself is genuine enough, but something very inferior has been added by a dishonest merchant. Now, there is no valid reason to suppose that St. Paul in this passage could only have meant one sense or the other when he used this word. Rather, it is likely that he meant both. He charges his opponents with having adulterated the Gospel with some extraneous material for the purpose of peddling it, just as the dishonest merchants did when they obtained more money for themselves by adulterating their wine and wheat. He means to draw a connection between the peddling of the word and its corruption here, and not merely speak of its corruption. The same thought is present in 4:2 when he says that he is "not walking in craftiness, nor handling the word of God deceitfully." He will not make it superficially attractive by dressing it up with the sort of things which the unregenerate world finds attractive, but which only distract from its simple power. I believe that John Calvin has correctly drawn out the implications of Paul's use of καπηλεύοντες here in his commentary:
I do not think it likely that those who are here reproved preached openly wicked or false doctrines; but am rather of opinion that they corrupted the right use of doctrine, for the sake either of gain or of ambition, so as utterly to deprive it of energy. This he terms adulterating. Erasmus prefers to render it cauponari — huckstering. The Greek word is taken from retailers, or tavern-keepers, who are accustomed to adulterate their commodities that they may fetch a higher price ... It is, indeed, certain from the corresponding clause, that Paul intended to express here corruption of doctrine not as though they had revolted from the truth, but because they presented it under disguise, and not in its genuine purity. For the doctrine of God is corrupted in two ways. It is corrupted in a direct way, when it is mixed up with falsehood and lies, so as to be no longer the pure and genuine doctrine of God, but is falsely commended under that title. It is corrupted indirectly, when, although retaining its purity, it is turned hither and thither to please men, and is disfigured by unseemly disguises, by way of hunting after favor. Thus there will be found some, in whose doctrine there will be no impiety detected, but as they hunt after the applauses of the world by making a display of their acuteness and eloquence, or are ambitious of some place, or gape for filthy lucre (1 Timothy 3:8), or are desirous by some means or other to rise, they, nevertheless, corrupt the doctrine itself by wrongfully abusing it, or making it subservient to their depraved inclinations. I am, therefore, inclined to retain the word adulterate, as it expresses better what ordinarily happens in the case of all that play with the sacred word of God as with a ball, and transform it according to their own convenience. For it must necessarily be, that they degenerate from the truth, and preach a sort of artificial and spurious Gospel.
I ask the reader now to consider the three editions of the Bible described below. For each I have reproduced advertising copy from the publishers, and for the second I also give an article by Russell D. Moore. The reader should then ask whether in these editions the Bible "is turned hither and thither to please men, and is disfigured by unseemly disguises, by way of hunting after favor." If so, they are condemned by Paul as huckstering.
I've often wondered where Jesus would apply His hastily made whip if He were to visit our culture. My guess is that it would not be money-changing tables in the temple that would feel His wrath, but the display racks in Christian bookstores. — R.C. Sproul, Lifeviews (Revell 1986), p. 184.
Michael Marlowe
August 2003
---
1. The Gross Boy's Bible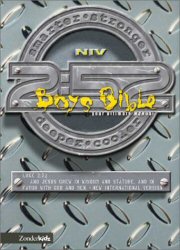 Description from the Back Cover ...
From the manly, metal-looking cover to the cool features inside, The 2:52 Boys' Bible, NIV is the "ultimate manual" designed for boys ages 8 to 12. Based on Luke 2:52: "And Jesus grew in wisdom and stature, and in favor with God and men," this Bible focuses on the four primary areas of growth highlighted in the Scripture to help boys become more like Jesus mentally, physically, spiritually, and socially—smarter, stronger, deeper, and cooler.
This unique Bible uses the full-text of the New International Version® and contains a study system called the 2:52 Track that takes boys through the Bible using the four primary areas. Each track highlights people, stories, and Scriptures that help boys grow towards maturity and manhood.
Additional features include:
Make It Stick: A boy's version of a 'journal,' these sticky notes are special entry spaces intended for everything from fun doodles and sketches to quick responses to the text.
Get a Load of This: Interesting and sometimes humorous facts about the Bible, Bible times, and Bible characters.
Grossology: Gross facts and other 'boy-flavored' items of interest in the Bible.
Encourage boys in their quest to be smarter, stronger, deeper, and cooler as they develop into young men of God with The 2:52 Boys' Bible, NIV.
About the Author
Rick Osborne is the author who has produced the "I Want to Know" series for Zonderkidz as well as other 2:52 books, and "The Legend of the Christmas Tree." He lives in Vancouver, Canada.
---
2. The CosmoGirl Bible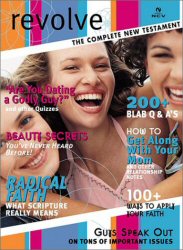 REVOLVE is an edition of the New Century Version New Testament published by Thomas Nelson Publishers in the Summer of 2003. It is designed to look like a magazine. The biblical text is wrapped around colorful graphics and obtrusive side-bars that contain the kind of tips, quizzes, and pop-culture trivia usually found in secular magazines aimed at teenage girls (see the publisher's product description below). Undoubtedly, most teenagers will pay more attention to these entertaining elements than to the biblical text. But the personal advice offered in the sidebars is sometimes quite different—in both substance and in tone—from the kind of advice to be found in the text.
We will notice one bit of advice which appeared in the first printing of this edition but which was omitted in subsequent printings, apparently because it came uncomfortably close to the biblical teaching on the relationship between the sexes. On page 13 of the first printing the following question and answer appeared:
Q: Hey, my question is how do you tell a friend that's your crush that you're into him without ruining your friendship.

A: You don't. Sorry. You just don't tell him without it ruining your friendship. God made guys to be the leaders. That means that they lead in relationships. They tell you they like you. It is just an all around bad idea for girls to take the guys' responsibility.
Evidently, the purpose of the answer was to discourage teenage girls from displaying an unseemly sexual eagerness, but the statement "God made guys to be the leaders" was noticed by reviewers in the secular press as an example of Christian "sexism." The publisher quickly responded by revising the answer thus:
A: Telling a guy friend that he is your crush is risky. You could end a great friendship. If you really dig him, just enjoy being with him. If he feels the same about you, and it is meant to be, it will happen in time. Crushes come and go; friendships can last a lifetime.
We note that, as of the latest printing, the editors have not revised similar statements in the biblical text itself (e.g. Ephesians 5:23). But in any case, there is little danger of them being noticed in this edition.
Christian leaders ridiculed REVOLVE as soon as it appeared, holding it up as an egregious example of evangelical shallowness and trivialization of the Bible (see the comments of Russel Moore reproduced below), but the publisher seems to have had the last laugh — this was the best-selling edition of the Bible for the year 2003. May God help us.
The following text is from a press release issued by Thomas Nelson Publishers through an advertising agency.
(NASHVILLE, Tenn.) How often does the average teen carry a Bible to school, the mall, or even a friend's house? Most teens-American or not-are way more concerned with their own life than the life of Jesus. However, it's quite likely you'll see teen girls sporting the newest, hippest Bible this summer-from the beach to the mall, this magazine-style Bible is the most innovative concept in Bible publishing in the last twenty years. Revolve: A New Look At The New Testament (Nelson Bibles, July 2003, ISBN: 0-7180-0358-6) is a modern look at the New Testament with hundreds of applicable insights for daily living, available nationwide in July from Nelson Bibles, under the teen brand, Transit.
Part Bible, part teen culture 'zine, Revolve is all about bringing the Bible to teen girls in a format they're comfortable with. It shows them that the Bible is fun and applicable to life today. In addition to the entire New Testament in the easy-to-understand New Century Version, Revolve contains additional features that are common to glamour magazines. Some features included are:
Quizzes - Like "Are You a Good Daughter?" or "Are You Dating a Godly Guy?"
Guys Speak Out - Guys give their opinions on everything from the ideal girl to your focus on life.
Beauty Tips - How to achieve stunning inner beauty.
Calendar - Fun activities throughout the year, as well as "Pray for a Person of Influence" days on celebrities' birthdays.
Blab - Revolve staffers answer actual questions from readers.
Bible Bios - Brief summaries of famous women throughout the Bible.
Bible Basics - What is the New Testament? Who was Jesus? Everything a seeker or new believer needs to know.
Many teen girls are intimidated about reading the Bible. However, Revolve makes the New Testament approachable and helps readers understand biblical teaching through real life scenarios and familiar magazine features. To make the notes as relevant as possible, each has been written by women in their early twenties who have spent time with young girls and know what teens are looking for in life and from the Bible. Through this new Bible format, young girls learn to approach family, friends and life with Christian beliefs and morals, while at the same time not feeling excluded from pop culture.
Revolve is a cornerstone product for Transit, the teen publishing strategy of Thomas Nelson Inc. "Revolve is the most innovative, revolutionary Bible product for this generation of teen girls. By mixing pop-culture fashion magazine formats with the eternal truth of Scripture, we've found a way to make the Word of God exciting, relevant and fun for young women again," says Kate Etue, Senior Editor at Transit.
MEDIA: To schedule an interview or to receive your review copy of Revolve, please contact Marika Flatt, Phenix & Phenix Literary Publicists, at (512) 478-2028 ext. 201 or marika@bookpros.com
CONSUMERS: You can purchase "Revolve" at www.nelsonministryservices.com
---
3. The Nascar Bible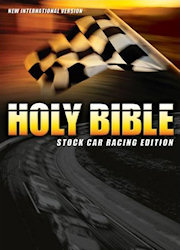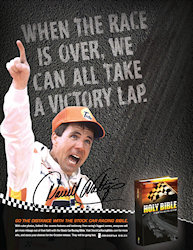 In 2010 Zondervan rolled out the Stock Car Racing Edition of the "Holy Bible." The marketing campaign for this edition of the publisher's popular NIV version included a promotional website at StockCarRacingBible.com. Here I present a picture of its cover, and of a promotional flyer that was sent to booksellers. The flyer says,

"When the race is over, we can all take a victory lap …

"GO THE DISTANCE WITH THE STOCK CAR RACING BIBLE. With color photos, behind-the-scenes features and testimony from racing's biggest names, everyone will get more mileage out of their faith with the Stock Car Racing Bible. Visit StockCarRacingBible.com for more info, and stock your shelves for the October release. They will be going fast."
---
by Russell D. Moore
When one sees a crowd of teenage girls standing in the food court of a suburban mall, chances are they are not debating the correct interpretation of "justification by works" in the Epistle of James. Indeed, chances are these women have almost no contact with the words of Scripture at all. It is quite likely, however, that these girls have read a copy of Glamour or Teen People magazine sometime in the last week. It's here that one evangelical publisher sees an opening for the Bible.
And so Thomas Nelson Publishers has given us Revolve: The Complete New Testament, a magazine format with some of the substance and all of the style of a glossy teen glamour monthly. The New Century Version of the New Testament is interwoven with a "Blab" advice column, self-help quizzes, and eye-catching graphics.
Just like Cosmopolitan, the publication offers "beauty tips" on every couple of pages, but with an allegorized twist. So, just as when plucking one's eyebrows one places a warm rag over one's pores to prepare them for the pain, kind words to a friend will help in breaking bad news. Just as one applies foundation before putting on the rest of one's makeup, Jesus is the "foundation" of our lives. Just as moisturizer is necessary every morning for one's dry skin, the mercies of the Lord are new every morning. And, just like Tiger Beat, this Bible has photographs of attractive guys every few pages in a "Guys Speak Out" column in which the boys answer questions such as "Do you prefer quiet girls or outgoing girls?" or "Describe your ideal girl".
The creators of this new Bible probably see themselves as missionary Bible translators, contextualizing the Scriptures in the "language" of an increasingly unreachable people group. Yet the issue is more complicated than just one more missiological strategy. The evangelical community must think through whether such "niche Bible" gimmicks carry with them some unintended and counterproductive consequences.
The first unintended consequence of the Revolve strategy is what it communicates about the authority of Scripture. The Bible distinguishes itself from other claims to authority precisely because of its otherness. Because it is the voice of God Himself, it arrests the attention of human beings through its own weightiness. Thus, God wonders why his own prophets are not "afraid" to heed His words through His mediator Moses (Numbers 12). The Scripture claims to stand over humanity as a "two-edged sword" carrying with it the authority of the Creator God Himself and piercing through consciences to the hidden places of the heart (Hebrews 4:12-13). Is it possible to avoid trivializing the gravity of the Scripture as the authoritative Word of God when the Bible is packaged as something as frivolous as a beauty magazine (or a sporting magazine, for that matter)? Have you lost something about the conscience-piercing nature of the Book of Galatians when it is interspersed with tips on how to apply lip-gloss?
Likewise, it is hard to see how the unique authority of the Bible is preserved when it is thrown together with other—seemingly equal—claims to authority. The Gospel of John is on the page as the text of this "magazine" right along with interviews with teenage boys about what they like best in girls and advice from some anonymous columnist. Now most of this counsel is sound. One young man writes, for instance, that he finds immodesty to be "gross." Still, should we be endorsing a young girl accepting the authority of the thoughts of attractive men, right along with the reading of the Word of God? She will find many "cute boys," after all, who find immodesty anything but gross. That is irrelevant. What is relevant to her, however, is the voice of her Creator coming to her with the authority of His Christ.
The second unintended consequence is what this Bible communicates about the nature of the gospel. In this sense, the Revolve Bible is nothing new. Evangelicals have long believed that the way to get attention is to reincarnate the gospel into a vanilla-flavored version of whatever worldly fad is the going thing. Thus, we have the embarrassment of "Christian boy bands" seeking to imitate (usually badly) the music of "N'Sync." We have Christian wrestling federations and Christian karaoke clubs and Christian line-dancing competitions. But these things just don't seem to penetrate a secular youth culture. Why? Because they already have glamour magazines and boy bands and karaoke clubs—and they are done better than we can do them.
And yet these same teenagers are scared to death of death and loneliness and guilt. The revivals that we are seeing among teenagers come through a remarkably ancient plan: Christians who love teenagers enough not to seek to ape their pop culture, but instead to dwell among them and point them to something completely different, the gospel of a crucified and resurrected Messiah. They can find out Justin Timberlake's birthday in Teen People. What they most want to know is, how can I find peace with God? Why obscure the awesome nature of that proclamation with so much fluff and silliness?
Evangelical Christians who are in tune with teen culture will see that teenagers don't want more of the glamour culture. It is killing them. You can see this in the faces of gaunt anorexic teenage girls trying desperately to look like the "ideal" woman they see in the celebrity magazines. You can see it in the desperation of teenage girls who buy the cultural assumptions that a woman's worth is measured in how physically attractive men consider her to be. This is not Jesus' view of women. When Jesus encountered a woman bound by the cultural expectations of her civil religion and by the sexual expectations of the men in her life, He did not patronize her (John 4:1-26). Instead, he confronted her with the offer of the cleansing waters of the Spirit—the same offer He has sent forth into the whole world.
It is here that the Revolve phenomenon most painfully falls short. The gospel simply is not glamorous. It stands against all the values of the glamour magazines, which celebrate celebrity, consumer wealth, and sexiness. The gospel instead presents an executed Jewish king, who commands teenage girls to be crucified with Him. The Revolve Bible carries with it an inescapable implied message: you can be a Christian and still remain comfortably within the subculture of shallow middle-class North American consumerism. Is this the proclamation of Jesus and the apostles?
Revolve is a good-intentioned attempt to take the gospel to a teenage world in need of Christ. But the apostle Paul warns us that certain kinds of cleverness of speech can actually remove the scandal of the gospel, which is precisely what holds the power to save. With our proliferating gimmicks with the Bible, evangelicals must ask whether our cuteness just might be "emptying the cross of Christ of its power" (1 Corinthians 1:17).
And, sadly, this issue is just the beginning. Newsweek magazine reports that a new Bible for teenage boys is in the works also, modeled after the popular "lad" magazines such as Maxim. One can only wonder how they will pull this off, given the secret to these magazines' success with pubescent boys: scantily clad women and expensive power tools. Should we expect a smiling cover illustration of a smiling, bikini-clad Jael, complete with a bloody tent peg (Judges 4:17-22)? It is hard to see such making the cut in the neighborhood evangelical bookstore.
But, then again, one never knows.

Russell D. Moore teaches Christian theology at The Southern Baptist Theological Seminary in Louisville, Kentucky. He also serves as executive director of the Carl F. H. Henry Institute for Evangelical Engagement. For more commentary and analysis by Dr. Moore on a variety of issues, see his "Moore to the Point" column at www.henryinstitute.org. Permission to publish this article, with attribution given to the author and the Council on Biblical Manhood and Womanhood, is granted.

---